Special Occasion Romper Sets for Babies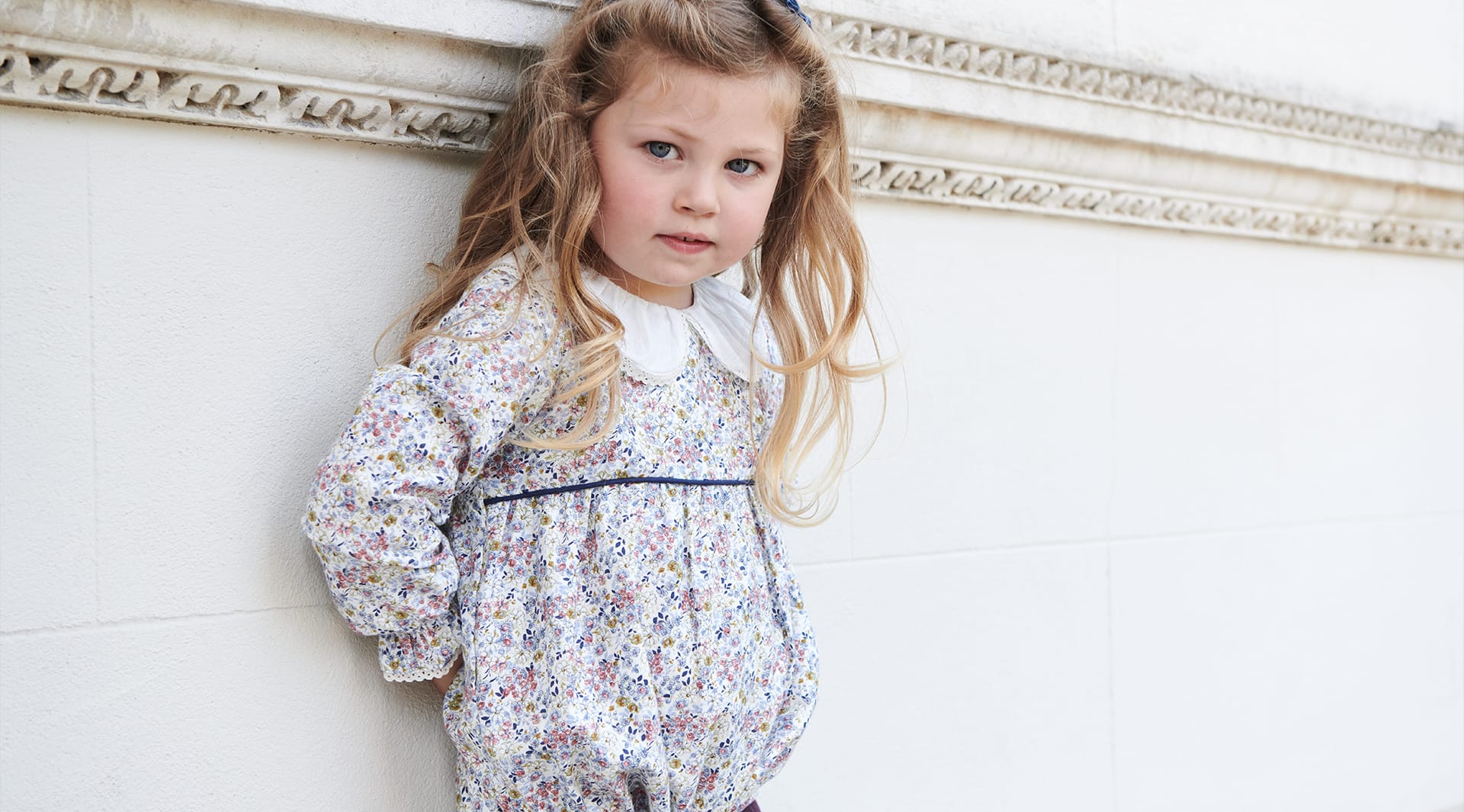 When it comes to dressing up our little ones for special occasions, nothing captures the essence of timeless elegance quite like a beautiful romper set. La Coqueta Kids, a brand founded in 2013 by Celia Muñoz, a proud Spaniard, Creative Director, and mother of five, has become a beacon of quality and affordability in the world of Spanish clothing for babies and children. La Coqueta Kids offers an exquisite range of baby girl and baby boy special occasion rompers that are sure to make any celebration even more memorable. Discover the
 

latest collection

 

online and in-store, at

 

the Notting Hill flagship

 

in West London.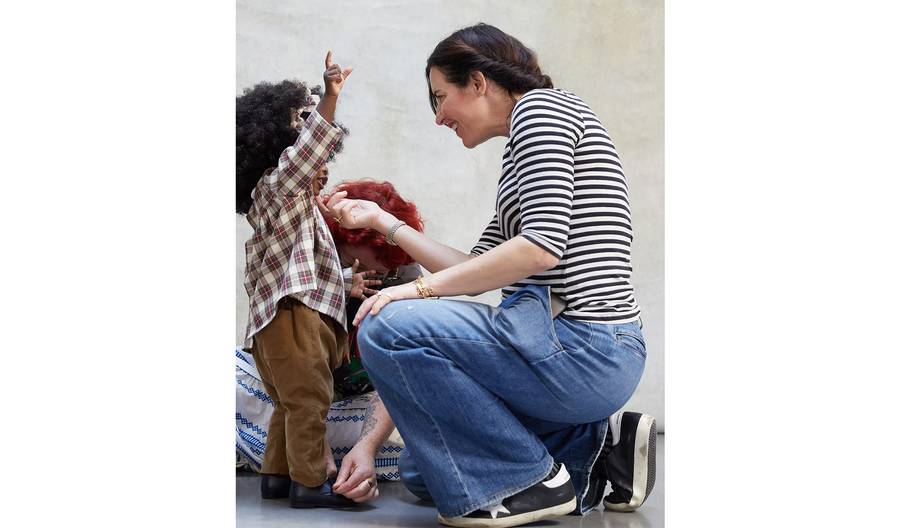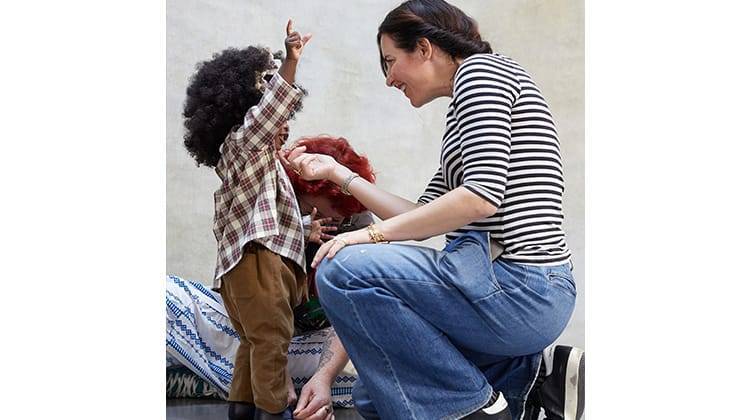 The Journey of La Coqueta Kids
In 2013 Celia Muñoz founded La Coqueta Kids with a vision to fill the gap in the market for well-made, affordable, and timeless Spanish clothing. Inspired by her own experiences as a mother and her passion for traditional Spanish design, Celia embarked on a journey to create a brand that would be cherished by families around the world. Today, La Coqueta Kids has become synonymous with high-quality children's clothing that embraces the cultural heritage of Spain while adding a modern touch. Loved by editors, celebrities, and Royals alike, each collection is a love letter to Spain, striking the balance between contemporary design and age-old tradition for the needs of the modern wearer.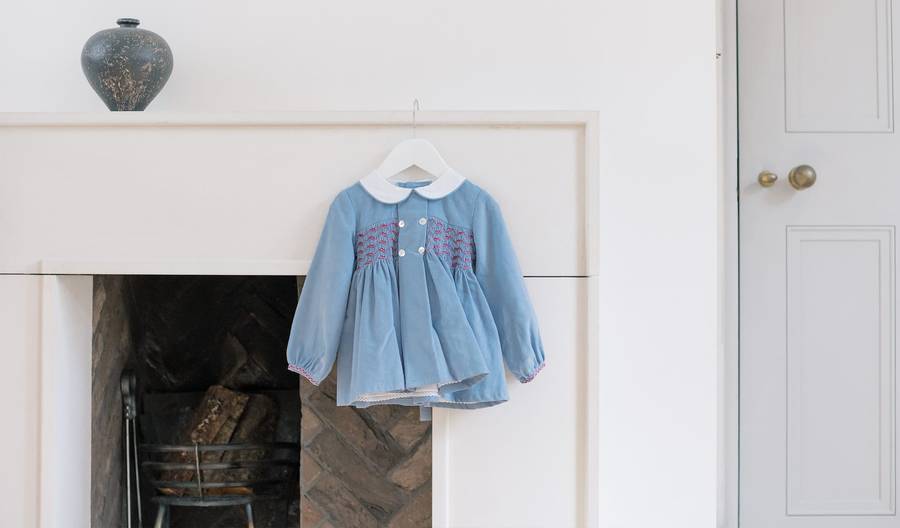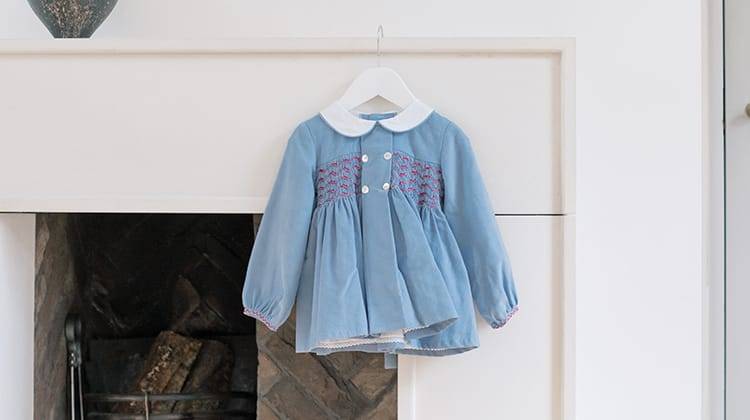 Celebrating Special Moments with Baby Girl Special Occasion Rompers
For those precious moments that call for dressing up your little princess, La Coqueta Kids offers a stunning array of baby girl special occasion rompers. These rompers are meticulously designed with attention to detail, ensuring that every stitch exudes beauty and charm. Crafted from the finest cotton, they are not only comfortable for your baby but also delightful to look at.
One of the key highlights of La Coqueta Kids' baby girl special occasion romper sets is their timeless Spanish designs. The rompers often feature delicate lace, intricate smocking, and beautiful embroidery, reflecting the rich cultural heritage of Spain. These designs pay homage to traditional Spanish clothing, allowing you to dress your little one in an outfit that connects with history while creating new memories.
Whether it's a birthday party, christening, family gathering, or any other special event, La Coqueta Kids' baby girl special occasion rompers will make your little girl stand out with grace and elegance. The sets are carefully curated to include matching accessories, such as bows, headbands, or shoes, allowing you to create a complete and charming look for your little princess.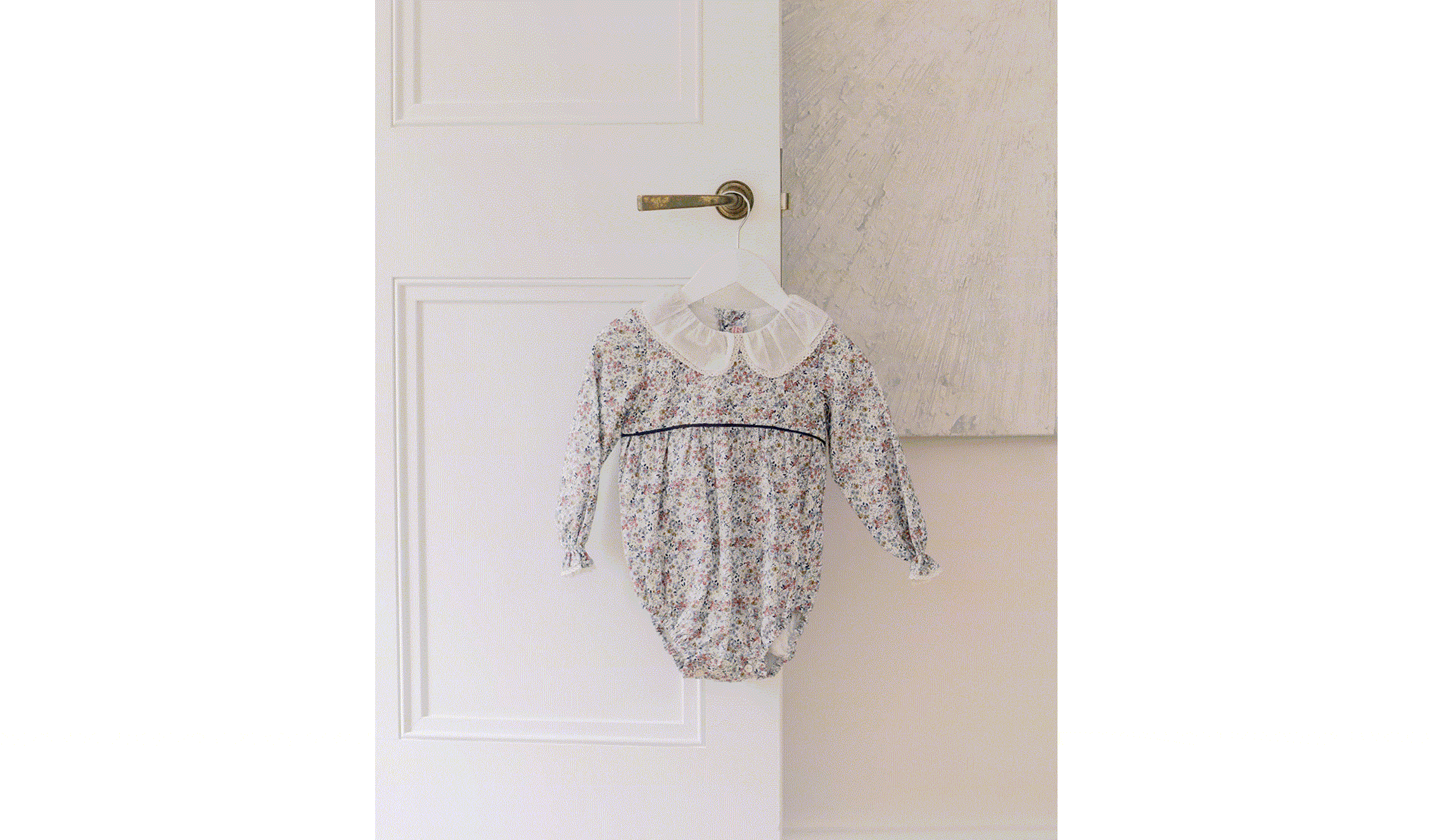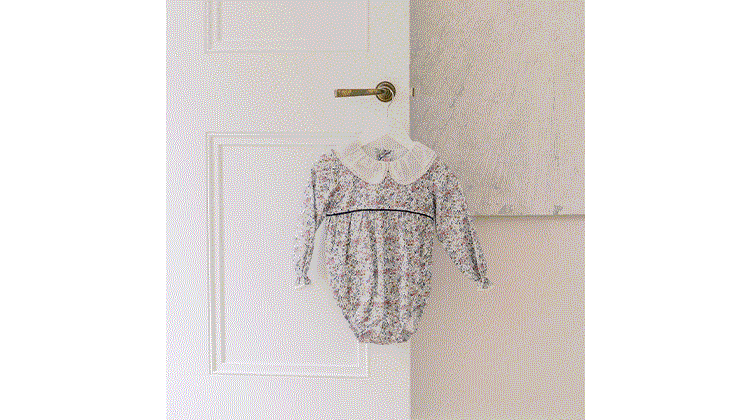 Blue Floral Sierra Baby Girl Romper
La Coqueta's Sierra Baby Girl Romper ticks all the boxes for seasonal dressing, crafted from 100% cotton and decorated with a ditsy floral print in shades of blue and mustard yellow. It is cut in a one-piece romper shape, with an airy silhouette, long blouson sleeves that gather at the cuff and an oversized Peter Pan collar trimmed with delicate touches of French lace.
Yellow Floral Fabiana Baby Girl Romper
La Coqueta's Fabiana Baby Girl Romper is crafted from pure cotton and decorated with a charming ditsy floral print in shades of yellow, burnt orange, and brown. It is finished with flashes of contrasting grey piping at the empire-line waist and sweet self-tie bow details on the gathered cuffs and has buttons to fasten at the back and crotch for fuss-free changing whilst out and about.
Sage Floral Laura Baby Girl Romper
Epitomising vintage romanticism in a way few can replicate, La Coqueta's Laura Baby Girl Romper is a floaty long-sleeve romper decorated with a hand-drawn vintage floral print. Crafted lightweight and silky material in rich shades of sage green, burnt orange and tan, it features a statement sailor bib collar trimmed in brown velvet and is fully lined with pure cotton. It has a timeless, effortlessly feminine shape, gathered sleeves and a self-tie brown velvet bow at the neck.
Terracotta Floral Chloe Baby Girl Smock Romper
La Coqueta's Chloe Smock Romper Suit showcases a bold interpretation of classic florals, crafted from luxuriously soft, fully lined, 100% cotton decorated with wallpaper-esque vintage florals in shades of terracotta. It features a floaty silhouette with plenty of room for movement, delicately shirred across the waist for a gathered effect, with long gathered sleeves and a charming frill collar that has been trimmed with ivory French lace.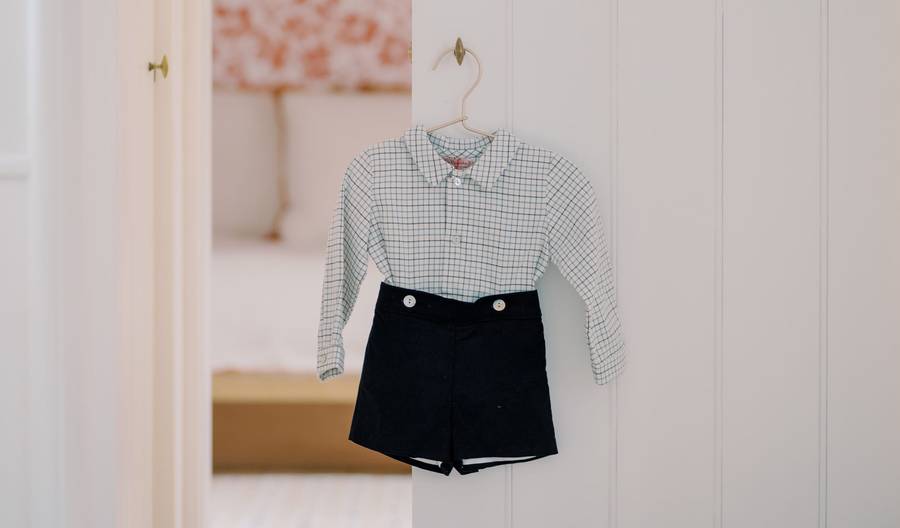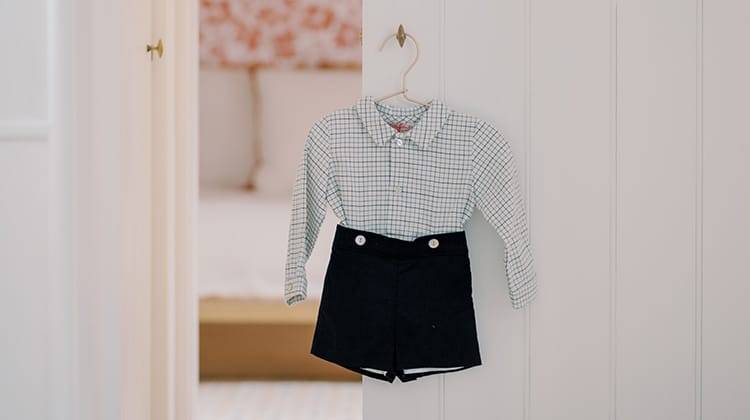 Charming Baby Boy Special Occasion Rompers
La Coqueta Kids doesn't leave the little gentlemen behind. For those heartwarming moments that demand a dapper look, their collection of baby boy special occasion rompers is just what you need. These rompers are thoughtfully designed to capture the essence of classic Spanish styling while being practical and comfortable for your baby boy.
The baby boy romper sets often feature traditional Spanish elements, such as Peter Pan collars, embroidered details, and smart buttons. These designs reflect the essence of Spanish culture, making your little boy look like a young gentleman ready to charm everyone around him.
The versatility of La Coqueta Kids' baby boy special occasion rompers ensures that you can dress up your little prince for various events, from weddings and family gatherings to formal celebrations. The rompers are made with the softest fabrics like cotton and pure Merino wool, ensuring that your baby feels cosy and free to move around, even in the most adorable formal wear.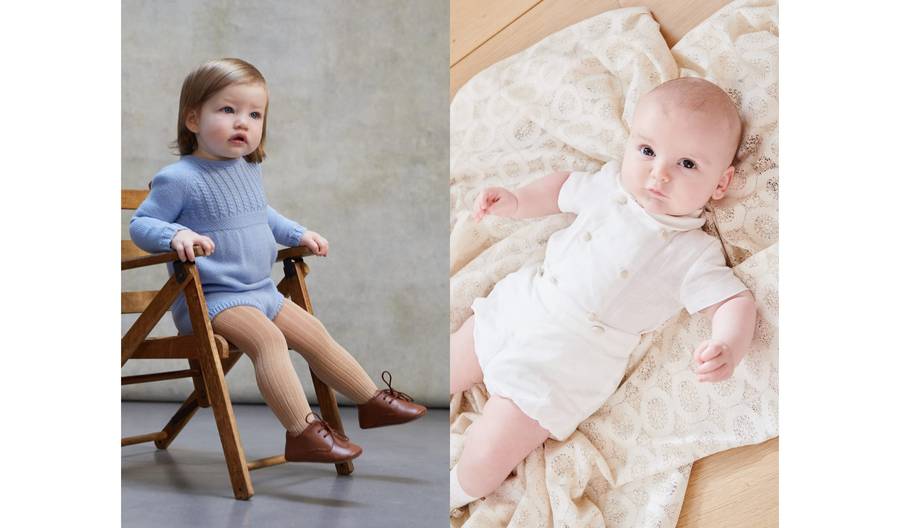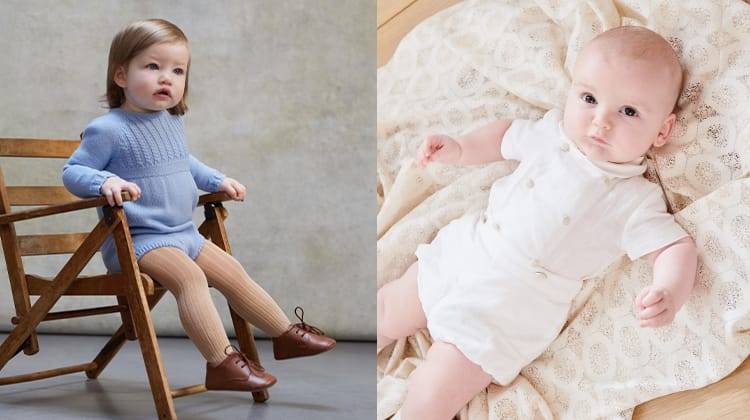 Blue Garci Merino Baby Romper
Imbued with understated charm, La Coqueta's Garci Merino Baby Romper is crafted from the finest 100% Merino wool in a dreamy shade of dusty blue. Featuring long arms with ribbed trims, a relaxed, floaty romper silhouette that ensures freedom of movement, and gathered leg cuffs for extra coverage, your growing baby will love the comfortable feel and snug warmth of our adorable, knitted one-piece.
Navy Check Arlo Baby Boy Set
Master the art of traditional dressing this season with La Coqueta's Arlo Baby Boy Set, inspired by the legacy of Spanish craftsmanship and traditional design that Founder and Creative Director Celia Muñoz grew up with in her native Granada. This two-piece set features a long-sleeved cotton shirt, decorated with a charming blue check, with attached shorts in luxuriously decadent navy corduroy.
Ivory Rori Ceremony Baby Boy Set
A timeless silhouette perfect for traditional family celebrations, make the big day even more special with La Coqueta's Rori Ceremony Baby Boy Set. Sculpted from the finest linen-cotton blend that is delicately soft and kind to even the most sensitive skin is a classic shade of ivory, this two-piece set is the perfect accompaniment to your next religious ceremony or nuptials. It features a short sleeve shirt with a kimono-style opening at the front for easing changing and attached bloomers with gathered legs for full coverage all day long. Finished with a charming Peter Pan collar and covered satin buttons in a soft shade of beige, the Rori Ceremony Baby Boy Set adds effortless refinement to your baby boy's special occasion style.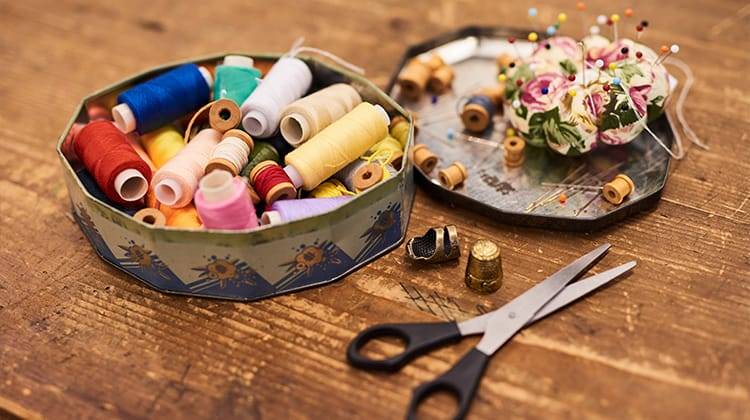 La Coqueta Kids' Commitment to Quality
One of the cornerstones of La Coqueta Kids' success is its unwavering commitment to quality. Each special occasion romper set is made with precision and care, using high-quality materials that ensure durability and comfort. Celia Muñoz's dedication to her own children's clothing needs has translated into a brand that is trusted by parents worldwide for its reliability and excellence.
The brand takes pride in producing clothing that not only looks beautiful but also respects the planet through their Plant For The Planet collaboration, launching the partnership in 2020 with the goal of planting one million trees in deforested areas of Spain and Mexico, and providing parents with a guilt-free option to dress their little ones in elegant attire.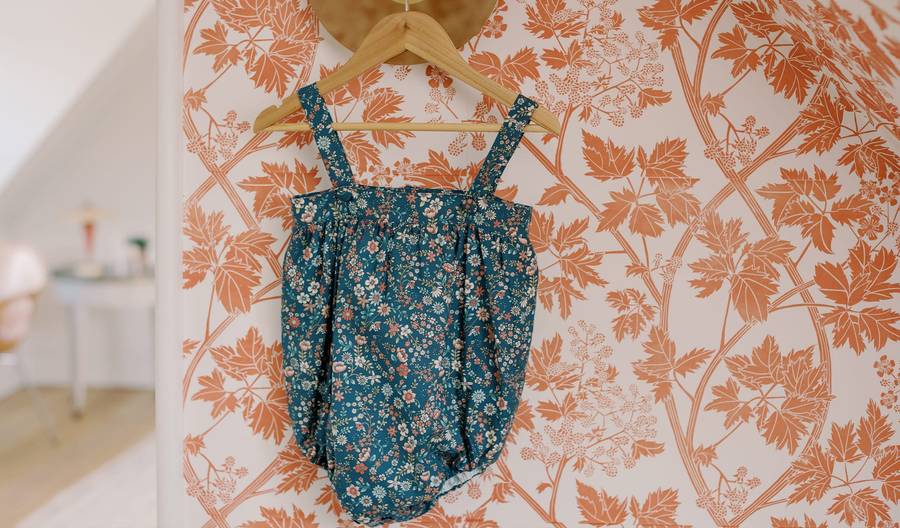 A Brand for Cherished Moments
La Coqueta Kids' special occasion romper sets are more than just clothing; they are a part of treasured memories that families will cherish for years to come. From those adorable photoshoots to the warm smiles and compliments received during special events, dressing your baby in La Coqueta Kids' rompers adds an extra layer of joy to every celebration.
The brand's commitment to timelessness ensures that these rompers will remain in style and loved by generations to come. Passed down from one sibling to another or even to the next generation, La Coqueta Kids' romper sets hold sentimental value, making them heirlooms of family traditions.
La Coqueta Kids has succeeded in bridging the gap between well-made, affordable yet timeless Spanish clothing for children. With their collection of special occasion romper sets for baby girls and baby boys, the brand allows parents to dress their little ones in exquisite attire that reflects the cultural heritage of Spain. Celia Muñoz's vision and passion have brought joy to countless families, and her brand continues to be a beacon of quality and elegance in the children's clothing industry.
So, whether it's a birthday, wedding, christening, or any special celebration, trust La Coqueta Kids to provide you with the perfect romper sets that will make your little one shine bright, creating cherished memories that will be cherished for a lifetime.
Share this article
Share